I see my job as one where I get to talk to the most interesting people in the world and ask them the most personal, honest, gut wrenching questions about who they are—and then I get to listen to them. Over the last 20 years, I've done this thousands of times. But what I've realised is this – I wasn't born curious or inherently gifted at asking questions. Underneath it all is a whole lot of technique and a heap of practice.  These skills — asking difficult questions, looking to understand people — are not isolated to the TV and film interview arena, they are universal. So I've decided to start writing about what I've learnt over my career.  You can read it in my regular newsletter, QUESTIONABLE ADVICE. I'd love you to
sign up
!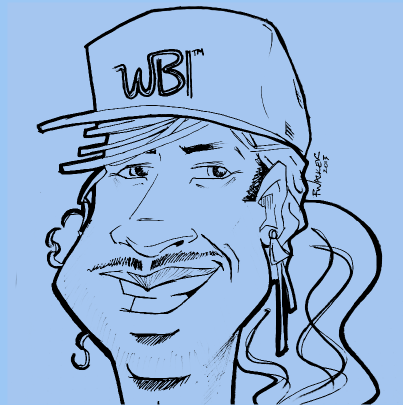 Kirk Docker is one of Australia's finest interviewers and storytellers. He is the co-creator and director of the ABC program You Can't Ask That, now in its 7th season. The show has been awarded Rose d'Or, AACTA and Walkley awards and is the most successful format in ABC history, selling to 32 territories, and broadcast in 9 different languages world wide. When it comes to the content he creates, no subject is off-topic. Kirk's interviewees range from ex-politicians to ice users to sexual assault survivors. He has a deep curiosity, compassion and playfulness that elicits honesty from his participants, many of whom have never sat in front of a camera before. Through thousands of hours of open dialogue, what's become absolutely clear to Kirk is that every human, no matter what they believe or how high their stature, share a core value: the desire to be understood.

I write about what I've learnt interviewing 1000s of people over the last 20 years.  Sign up here to receive my newsletter Questionable Advice!
17.5.23
QUESTIONABLE ADVICE LAUNCHES
— Today I launched my newsletter Questionable Advice, where I delve into my learnings from interviewing 1000s of people over the last 20 years.  Sign up 
here
2.5.23
STORYFEST — Coming 15-18 June I will be moderating a couple of sessions at StoryFest 2023, the writers festival in Ulladulla, on the south coast of NSW. Should be fantastic. 
The first session is called You Must Ask That, featuring Zaheda Ghani, Kirli Saunders and  Michael Mohammed.  This session will explore the importance of giving voice to stories that need to be told.  Right up my alley.  Tix and info here.
The second is called Only In Australia, featuring Michael Winkler, Chris Hammer and Holly Wainright.  The session delves into the world of character and caricature in our nation's storytelling.  Again, an area I'm fascinated by.  Tix and info here.
Tix and more info here
1.4.23
TEDx — Speaking at TEDx PERTH was a rewarding challenge. My talk — You can't ask that! How a question can lead to deeper interaction — will be available to watch in approx 6 weeks. Stay tuned.
5.3.23

PODCAST — I spoke to Andrew Horsfield on his podcast The Messy Middle about the interview process and other stuff. Includes many references to fetish (don't know what I was on that day). 
26.2.23
TEDx — Yep, I'm one of those guys now. I will be speaking at TEDx PERTH on April 1 2023, not a joke. Click here for more details.
1.1.23
BEST IVs OF 2022 — My yearly attempt at compiling the best of the craft in 2022. 
For the last 7 years I've been making a show for ABC called You Can't Ask That. There are 65 episodes over 7 seasons of the show.  It is the most successful format in ABC history, with 35 seasons around the world in 9 languages.
For those that don't know the show I'd describe it as an interview show, where each episode we focus on a misunderstood or marginalised group of Australians – it could be Muslims or people living with Schizophrenia or Bogans.  All our participants live with a label.  What we're trying to do is go past this label and understand who they truly are.  We do that by asking the questions you shouldn't ask. Maybe you'd like to, but the questions are too rude or too insensitive or maybe you don't have access to that person to ask it.  Each person then gets to answer these questions however they like.  The show only features people with first hand experience, so no experts or family speaking on anyone else's behalf.  Just a group of people with a label, talking about what it's like to be them.
I see my job as one where I get to talk to the most interesting people in the world and ask them the most personal, honest, gut wrenching questions about who they are—and then I get to listen to them. Over the last 20 years, I've done this thousands of times. But what I've realised is this – I wasn't born curious or inherently gifted at asking questions. Underneath it all is a whole lot of technique and a heap of practice.  These skills — asking difficult questions, looking to understand people — are not isolated to the TV and film interview arena, they are universal. So I've decided to start writing about what I've learnt over my career.  You can read it in my regular newsletter, QUESTIONABLE ADVICE. I'd love you to
sign up
!